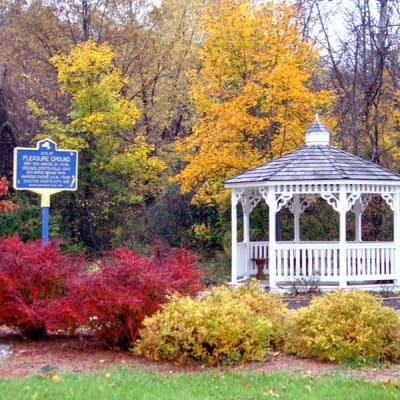 Area Attractions
The Borland House is located in the heart of the Hudson Valley and conveniently situated in the historic Village of Montgomery, NY. From our porch you can stroll to your choice of critically acclaimed restaurants or check out the antique shops and gift boutiques. Recycled Style is a classy used clothing boutique right around the corner. The entrance to the Pleasure Grounds trails, in photo, is marked by a gazebo . Visit the Montgomery Village Museum and Fire House Museum, just down the street. The Wallkill River School and Art Gallery is a must see. And, of course, don't miss Richard's Dairy Shed, a Montgomery tradition for all ages.
The local music scene is just down the block. In the Summer watch concerts on the band stand from the porch every Thursday and in the Winter we have a local concert series of classical music. On Thursdays head to Garrison's Tavern for acoustic music or Copperfield's Irish Pub to showcase your talents at their Open Mic Night.
Right around the corner from the Borland House is the Tranquil Touch Day Spa. You can even pad over in your bathrobe and slippers if you really want to. Tranquil Touch offers a wide range of treatments and will readily accommodate your specific needs.
Contact information: 845 457-7533 www.tranquiltouch.vpweb.com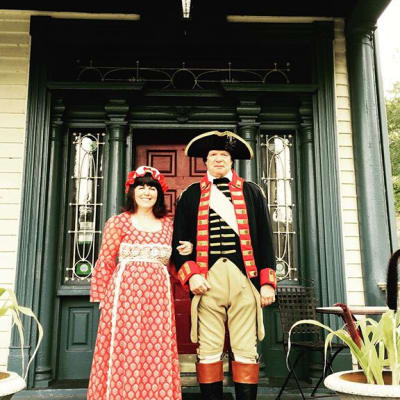 Historical Sites of the Hudson Valley
Many historical homes and museums are located in the Hudson Valley. Here are a few of our favorites:
(United State Military Academy at West Point) combines and educational experience with incredible views. Eisenhower Hall is located on the grounds. www.usma.edu
Franklin Delano Roosevelt Home and library is 35 min. away and features the actual furnishings that were in the mansion. (www.nps.gov/hofr) Eleanor's home, Val-Kill, is across the road. It has recently been restored and presents a personal look at this strong leader. (www.nps.gov/elro)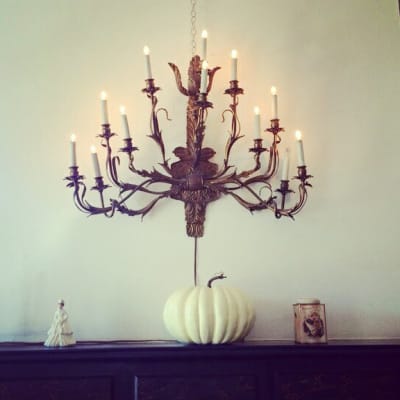 The Arts
Storm King Art Center, a world-renowned sculpture, is only 20 minutes away. Storm King features contemporary works that you can tour via tram and on foot. Enjoy incredible views, take along a picnic and plan to spend the afternoon. Don't miss Andy Goldworthy's stone wall! www.stormking.org
Dia Beacon is a contemporary art museum with bigger-than-life installations to challenge your imagination. www.diabeacon.org
Bethel Woods Center for the Arts offers world-class entertainment in a state-of-the-art outdoor venue and is 35 minutes away. bethelwoodscenter.org
Eisenhower Hall at West Point is the 2nd largest theatre in the state. www.ikehall.com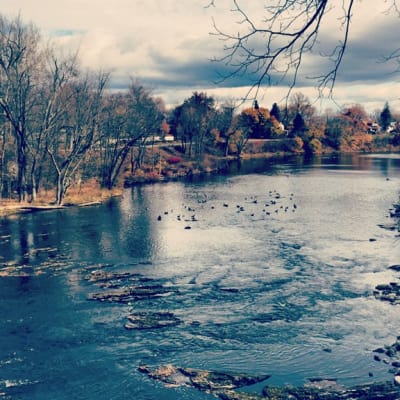 The Great Outdoors
Mohonk Preserve (http://www.mohonkpreserve.org/) and Minnewaska State Park (http://www.lakeminnewaska.org/), a 25-minute ride, are in the beautiful and challenging Shawangunk Mts. where hikers and climbers gather from all over the world.
Check out Winding Hills County Park, 2 miles away from the Borland House. Rent a row boat or paddle boat for lazy, old-fashioned fun.
Orange County Park and Arboretum is only a five minute drive from the Borland House.
The Walkway Over the Hudson (http://www.walkway.org/) is a 1-mile long pedestrian bridge spanning the vistas up and down the river. It is accessed in Highland, 25 minutes from the Borland House.
Take a hot air balloon ride! www.fantasyfliers.com
Pride of the Hudson is a tour boat that cruises the Hudson River, offering historical commentary. Located 15 minutes away, at the Newburgh waterfront, you can enjoy the restaurant scene there after your cruise. www.prideofthehudson.com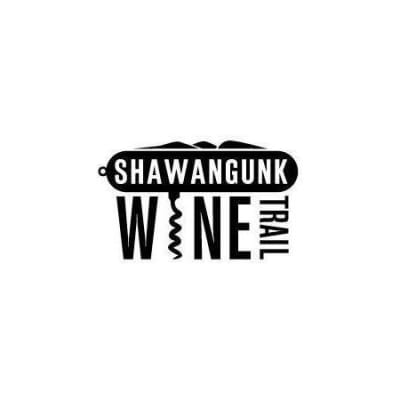 Wine Trail
The Borland House is located right in the middle of the Shawangunk WineTrail (www.gunks.com and www.newyorkwines.org). These boutique wineries offer tastings, vistas, and knowledgeable staff. Check out their special events! From their website you can find info about limo and bus service so you can sample and return to the Borland House safely.
Magnanini Winery (www.magwine.com) is a wonderful treat! They host dinners and dancing so bring your friends along.
Tuthill Spirits Distillery (www.tuthilltown.com) has an amazing tasting room for their whiskey, bourbon, vodkas and our favorite gin ever! They also have a beautiful restaurant that serves the best cocktail in NY State.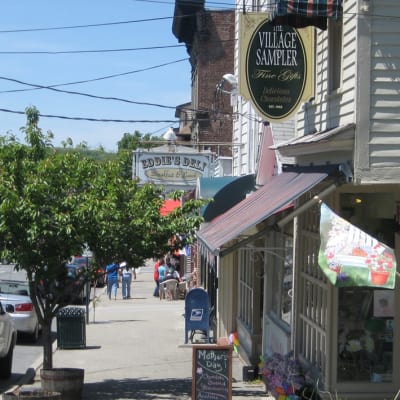 Shopping
Woodbury Common, a premier shopping outlet is only a 25-minute drive. www.premiumoutlets.com/woodburycommon
Orange County Choppers is a popular destination for the motorcycle enthusiast. You have watched them on TV, now, check out some of their most outrageous designs when you visit their retail store, 10 minutes down the road. www.orangecountychoppers.com
Antique shops abound in and around Montgomery. Just over the Newburgh-Beacon bridge are the many shops of Cold Spring and Beacon. Browsing in the Village of New Paltz is fun. Be sure to stop along the way to pick apples at Tantillo's Farm Market.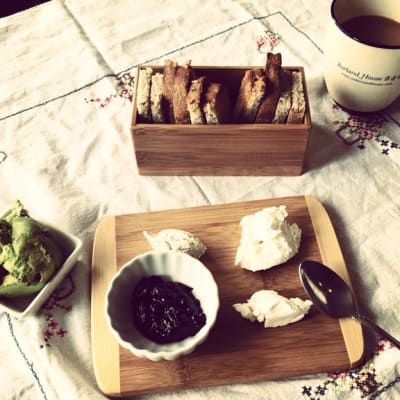 Recommended Food/Drink
RESTAURANTS
---
88 Charles Street Café (walkable)
(845 457-9850) – 88 Charles St - A Northern Italian bistro with an extensive blackboard menu. They are renowned for their steak-au-poivre. Portions are generous, so go there hungry! Excellent Service. Live piano music on Friday & Saturday evenings. Dinner: 7 days a week
The Table (walkable)
(845 769-5625) – 73 Clinton Street - New to Montgomery this place is becoming a fast favorite. With a great fashion forward menu, you will not walk away disappointed or hungry. The burgers are divine. Dinner: Friday & Saturday Only
Ward's Bridge Inn (walkable)
(845 457-1300) – 135 Ward St -Practically in our backyard, Ward's Bridge has a lively pub-steak house feel where guest can get everything from a great hamburger to potato-encrusted salmon. Special are always fantastic. This is a local favorite, reservations recommended. Dinner: Tuesday-Sunday
Wildfire Grill (walkable)
(845 457-3770) – 74 Clinton St - Just down the block, this eclectic fusion restaurant offer a wonderful variety of food we love. The food tastes as good as it looks. The crème brulee in filo dough is our favorite. Reservations recommended Zagat rated. Dinner: Closed Tuesday
Vic's Pizza (walkable)
(845 457-4466) – Don't want to go out? Vic's will deliver or you can order take out. They are just down the block. The pizza is fabulous and they also serve giant pasta dishes and huge Italian sandwiches for lunch.
Caborcas Mexican Restaurant (walkable)
(845) 769-7012 - 91 Clinton Street - Great tacos! Our favorite are the spicy pork tacos and the guacamole is made fresh to order. Sit down or take out.
Liberty Street Bistro (15-20 min Drive)
(845 562-3900) – 97 Liberty Street, Newburgh - James Beard Nominated Chef! Our favorite dinner place in Hudson Valley. Liberty Street Bistro is a neighborhood eatery in downtown historic Newburgh, New York. Led by Chef/Owner Michael Kelly, Liberty Street Bistro serves New American cuisine influenced by classic French cooking techniques, and strives to embrace the community, culture, and bounty of the Hudson Valley. Love the beet gnocchi when available on the menu.
Liquid Mercantile (20 min drive)
(845) 633-8764 - 128 Main Street, Gardiner - Best drinks in Hudson Valley. Started by the family of Tuthilltown Spirits, now part of the Glenfiddich portfolio, this place knows its cocktails. Great local beer, wine and grub available too. Play board games and have a couple mixed drinks that will blow your mind!
Mountain Brauhaus Restaurant (25 min drive)
(845) 255-9766 -3123 Route 44 55, Gardiner - Want some amazing traditional German food and beer. This place has a beautiful view of the Hudson Valley is near tons of hiking trails and have incredible food and beer available. Be prepared for a crowd during October Fest which is just like being in Germany and so much fun.
PUB & GRUB
---
Copperfield's Café (walkable)
(845 457-5257) – 93 Clinton St. - If what you want is the best pub food and a good beer, this is your place. With over 30 beers on tap and a huge pub menu, you can have a great time and good eats. Best nachos and wings. Just down the street. Dinner & Drinks: Closed Sunday
Garrison's Tavern (walkable)
(845 457-1485) – 11 Union St. - ½ a block from our front door, Garrison's also has great food and atmosphere. Good cocktails and the friendliest service. A truly fun place on Wednesdays when they have tons of specials. Lunch & Dinner 7 day a week
COFFEE SHOPS
---
Iron Café (walkable)
59 Clinton St - Sweet little cozy coffee shop to go, sit and read with a good cup a coffee. Just down at the bottom of Clinton Street.
Eat This Bakery (walkable)
8 Union Street - Fun bakery full of gifts and treats